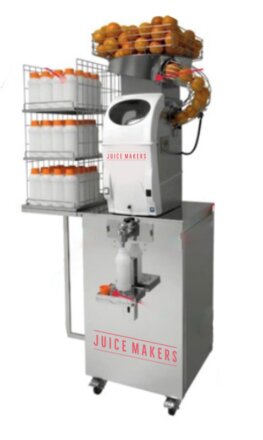 The JuiceMakers Iron Man orange juicer
The Iron Man surface-mounted juicer made of stainless steel juices oranges completely autonomously. That is a clear advantage over other solutions.
Description
This juicer juices oranges completely autonomously. You can take it with or without refrigeration. It always stocks a ready-to-drink amount of orange juice. Your customers can therefore quickly pick up a tasty and healthy snack. It is therefore an ideal solution for supermarkets and catering environments with many guests, even on hot summer days.
You can adjust the plateau to the size of the cups, bottles, or jugs you are working with. This juicer provides storage space for 15 kg of oranges. And from those you can squeeze a lot of delicious juice!