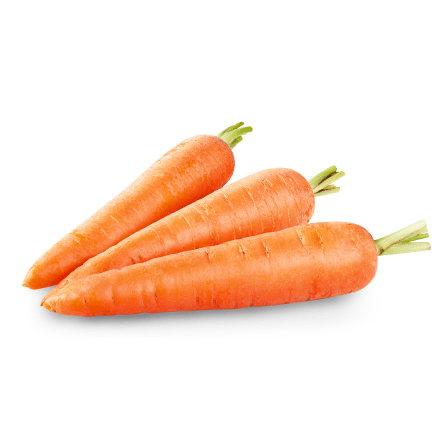 Carrot 1kg
Winter carrots are large, firm orange carrots. Winter carrots have a wonderfully sweet and typical carrot flavour. It is a real all-round vegetable that can be used in many ways.
Description
It is a real all-round vegetable that is delicious raw in a salad, as slices, cubes or strips in a pasta or wok dish, as well as cooked with some potatoes and meat. It is well known that carrots are good for the eyes. This is no fiction, because winter carrots are extremely rich in beta-carotene. This substance is also called provitamin A because it is converted in the body into vitamin A. That is what makes this vegetable so healthy for the eyes.
In addition to beta-carotene, carrots are also rich in vitamin C, phosphorus and calcium. The root is native to the region of Iran and Afghanistan. In the 17th century these were shipped to the Western world and the Dutch royal family had just decided that the color orange was a good means for the PR of the Van Oranje family. Carrots are therefore orange thanks to none other than William of Orange and in particular his son Frederik Hendrik.
Nutritional values per 100g
| | |
| --- | --- |
| Protein | 0.6 |
| Carbohydrates | 5.7 |
| of which sugars | 3.1 |
| Fat | 0.3 |
| of which saturates | 0.1 |
| Fibre | 3.3 |
| Salt | 0.1 |
Allergens:
No