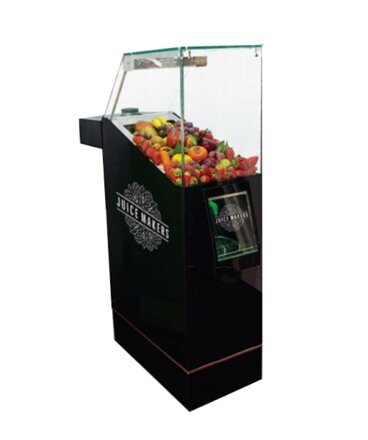 The JuiceMakers Floor 50: a cooling presentation bar and juicer in one
The JuiceMakers Floor 50 is an in-store mini juice bar that you can use in your counter. It comes with a fully operational and customer-friendly quality and service program; including menu, selected fruits and vegetables, and dispenser. Super attractively presented and inviting for your customers / guests.
Description
The JuiceMakers Floor is a unique mini juice bar. This is the single juicer model. Now every commercial and catering environment can make fresh juices and all of that from unpeeled fruits and vegetables. Supplemented with real dispensers with cups, lids, straws and napkins, you involve your guest in the experience of making his fresh juice.
In thirty seconds from order to service, your guest will have their fresh juice. A fresh juice with a unique taste experience. You will achieve nice margins and you will contribute to the collective health.
You can connect this device to the water supply or you can work with a water container. With the push of a button, you can rinse the device between the different juices. At the end of the day, you can clean the entire device in 10 minutes. It therefore requires little maintenance, and you have a good return. It doesn't get any better than this!